Campervan Rental
We've been following the trend of increasingly
unique motorhome designs
for awhile now. It seems that the more people decide a life on the road is for them, the more shape and colours of motorhomes are changing. Recently,
Dornob.com
has featured several interesting new RV models and concept design that show just what an evolution is occurring in the industry.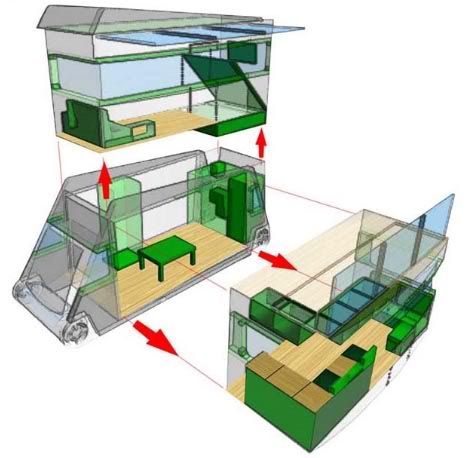 Functionality is a big part of any motorhome lifestyle and many designers and architects are now approaching the idea of developing cars with detachable motorhomes. That is to say, having a car that can function on its own with a high-tech motorhome that can be attached when the itch to get away from it all hits. The revolutionary design shown here was developed by
Andrew Dutton
, with an eye not only to making vacations easier, but also to allow more permanent mobility--like moving from city to city--more feasible as well.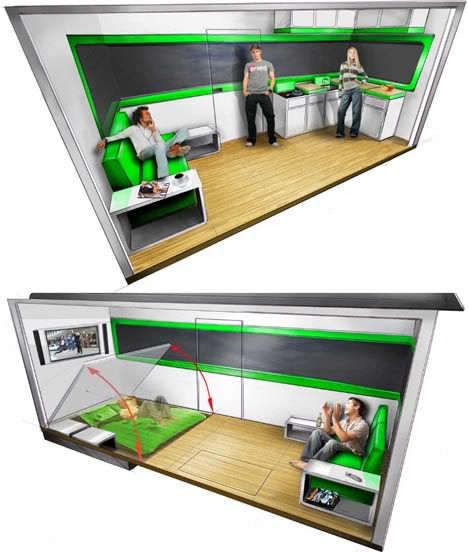 Dutton's design includes modern aesthetics paired with space-saving ideas such as convertible furniture to make the most of every inch of space. To make long-term living in such a space feasible one would need to set up regular heating and plumbing, but as a start this design really does delve into something revolutionary.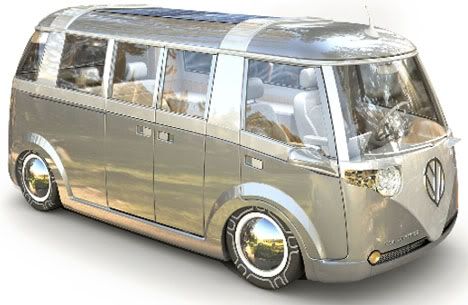 The new
Volkswagen Microbus
concept is a tribute to the original in style, but is completely modern in its environmental consciousness. The new VW bus is a bio-diesel hybrid filled with modern gadgets not imagined during the time of the bus' first go-round.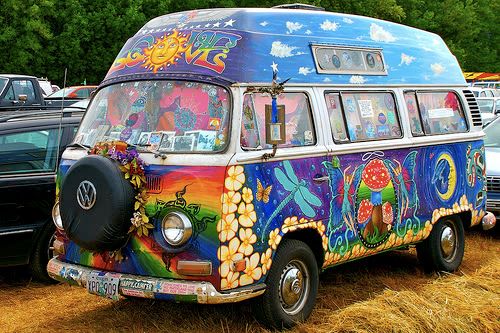 Pschedylic Campervan - Photo via
Web 420
The very idea of a motorhome is centered around freedom and individuality. Motorhomes afford the ability to take to the open road and head in whichever direction you choose. Not to mention that a motorhome vacation can be tailored to your own unique interests without having to cow tow to any group other than the people you choose to take with you. So it's not surprising that the self expression and actualization that a motorhome provides would extend to how one of these vehicles is decorated. Some motorhome owners like to put their own unique stamp on their vehicles, like these artfully designed versions found on
LifeSure
blog: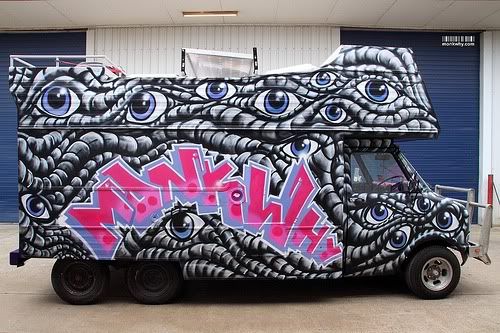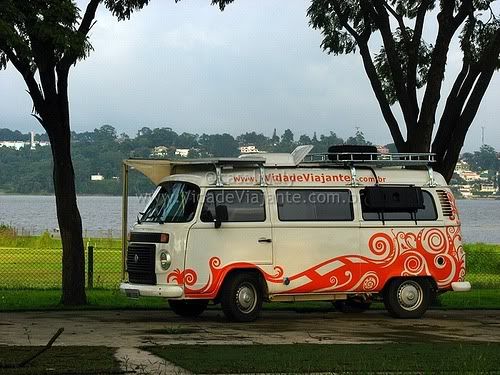 Modifications like custom paint jobs can be used to express identity, loves and even corporate branding. In many of these cases the motorhomes are being used like canvas, as utilitarian art, instead of just being treated like machines meant to transport people from Point A to Point B.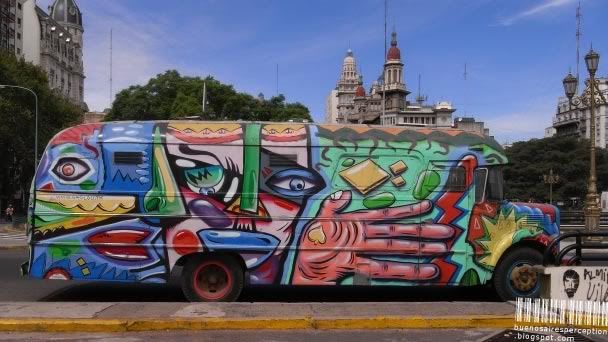 The motorhome above was abandoned and rusting on the streets of Buenos Aries when it was found by artist Louis D'Anjou. As shown on the
Buenos Aries Perception
blog, the artist used his trademark faces and lively colours to bring the motorhome back to vivid life.
Vehicle meets, where owners of many different types of cars gather, always bring out some uniquely designed machines. The VW campervans above and below, as shown on
Car Styling
, stand out from the rest and certainly say something about their owners.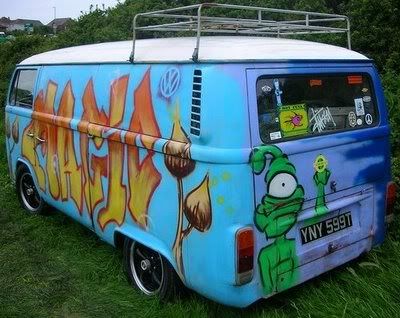 Web 420
compiled a selection of brightly hued and creative campervans to show on their site. While some are personally done others are clearly the work of professionals. If you are interested in painting and modifying your motorhome yourself make sure to check out exactly what type of paint is best for your vehicle and the drying time required.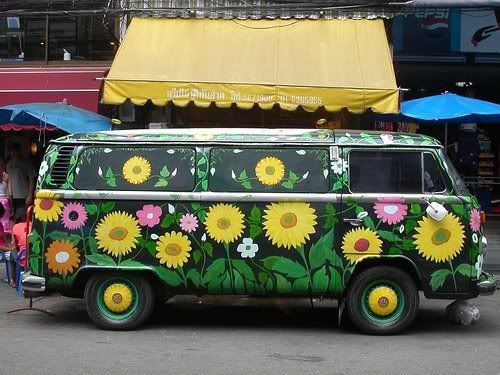 Flower Power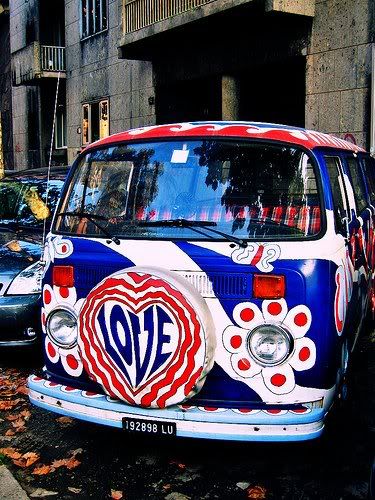 Brit Love
Clearly a music lover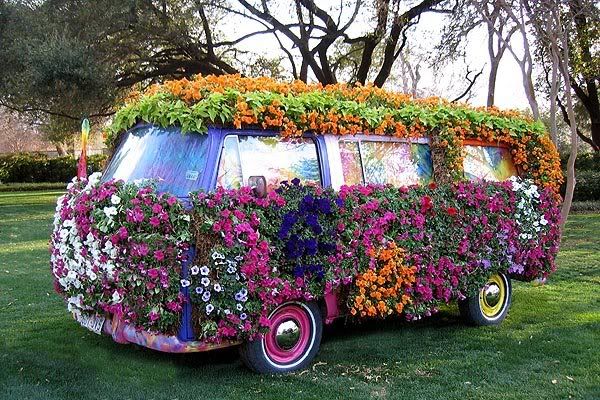 A variation of the Flower Power camper above this motorhome goes beyond just unique. With flowers sprouting from the sides one wonders if you would have to stop for water as well as gas.

If you're looking to take your newly painted motorhome for a spin, check out
Motorhome Roadtrip
for ideas on great places to take your motorhome across the world!
It seems hard to imagine a world without campervans to take to festivals, motorhomes to use at campsites, and RVs to tool around in while on vacation, but that world once existed. When, you ask? A hundred years ago to be exact, according to the RV Industry Association (RVIA), who this year is celebrating the centennial of RVs. Forget the precursor to campervans like covered wagons, according to historians 1910 was the beginning of the RV industry in the United States, beginning with the first mass produced models.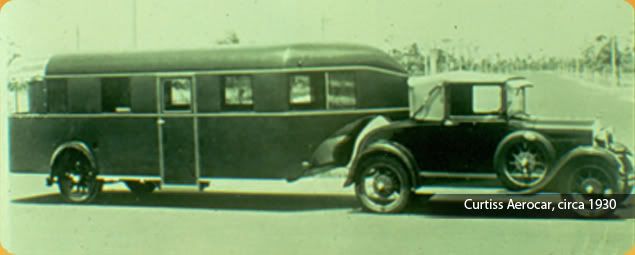 The birth of this storied industry can be traced back to the introduction of the Pierce-Arrow Touring Landau model, similar to a modern day Type B camper. The product was launched at Madison Square Garden in 1910. Today RVs and motorhomes have become a fixture in the world's leisure landscape and many travellers are realizing the merit of the open road that a
holiday rental RV
allows you. If you are interested in learning more about the history of RVs and actually seeing some vintage models you can drive your
motorhome rental
to the RV/MH Hall of Fame in Indiana. Open Monday to Saturday the museum caters to families and has items like a 1929 covered wagon trailer that looks something like an older Conestoga.
If you would like to celebrate the RV's anniversary along with other enthusiasts then you best book a
motorhome rental
now and head down to Louisville, Kentucky from July 22 to 25th for The Rally 2010. With hundreds of booths, seminars, a dog show, talent contests and entertainment from the likes of Tanya Tucker and Bob Newhart, The Rally offers something for everyone in your family. Camping costs range from $149 to $369 and include activities.
We're all used to seeing classic
campervans
on the road--usually in neutral colours with spacious interiors meant for discoveries and great vacations. While these RVs are great, not all campervans are of the
rental
variety and there are many out there that have been customized to fit their owners' needs. Bright colours, unique shapes and great add-ons feature in all of these cool campers and RVs, many of which were customized through ingenious do-it-yourself projects by those who drive them.
Unique campervan designs abound these days with people more eager than ever to own something completely different and customized to their personal needs. The bright orange van above is kitted out with a tent, perfect for those weekend getaways in the woods.
Also featured on the
Kustom Bart Blog
is this Tom Cyr-built creation. Built on a VW chassis, this unique design is called the Phoenix II and has many upgrades over the original Phoenix Kitvan. We're talking automatic transmission, better door access and a six-cylinder Covair engine. The cool driver and passenger doors are just the icing on the cake.
Another impressive motorhome project is this overhaul featured on
The Bus Project
. The site's founders chronicle their journey in transforming a regular double-decker public bus into their ideal family home on wheels.
The finished product is both bright and spacious. When on the road this bus certainly announces its arrival. The look is not only fun and lively, but the interior space makes it possible to take the vehicle on long roadtrips, which include the members of the two families who have undertaken this mammoth renovation project.
The interior of the refurbished bus is decorated in tasteful neutrals and includes all the comforts of home. The families faced some major challenges, including incorporating the necessary equipment to facilitate ease of travel for one of their children, who has special needs.
The motorhome includes a comfortable seating area to watch TV, play games and enjoy family time. It also features bedrooms and a well-stocked galley kitchen that means the families can be completely self-sufficient when on the road.
Avid traveller and computer technician
Stephen Stewart
created this tank of a campervan to continue his exploration of the world by road. Stewart built a body made of GRP and plywood onto this Unimog U1300L, which used to be an army vehicle. No doubt one of the more fierce motorhomes on the road today, Stewart's creation includes a shower room, kitchen and living area.
Quite a change from the heavy-duty campervan above this camel-powered vehicle was photographed by the good people at
Pure Travel
near Alice Springs in Australia. Slightly less powerful than your usual RV this campervan is clearly for those who enjoy life in the slow lane.
If you've been inspired by these cool campervans and design wizards who have made their RVs into vehicles that are perfect for
them,
then you might consider the project undertaken by a couple from Vancouver. On their
I Am S.A.M. the Van
blog the duo supply a glimpse into the steps for their DIY campervan sofabed.
As an alternative to their van's rooftop tent the couple used wood, hinges and power tools to fashion a bed that can be used for both sleep and storage. Proof that a little ingenuity and elbow grease can make your campervan into everything you want and more.
The Hills are Alive with the sound of
... 4 axels of
bowel shaking, earth moving power
. This is not your Opa's Wohnmobil, and it will make mincemeat of any terrain that is unfortunate enough to get in its way. With a 220 Hp and 626lbs of torque, this beast with out-yodel any motorhome on the planet. Here are some some specs of the
Desert Challenger
:
The MAN chassis:
MAN L2000 10.220 4x4 BB
Wheel base 11´8" (3560 mm)
extended type drivers cab + 12" (+300 mm)
MAN 6-cylinder inline turbodiesel with intercooler
Displacement 420 cubic in. (6.871 ccm)
Performance 162 kW/220 hp Euro 3
Max. torque 626 lb.-ft. (850 Nm)
ZF 6-speed manual gearbox r
2 speed transfer case with street and cross country ratiospermanent all wheel drive with
center diffential lock
Differential locks for front and rear axle
Drum brakes.
Anti lock brake system
Leaf springs front and rear
Tires 365/80 R 20 Michelin XZL, tubeless
fuel tanks, capacity 106 U.S. gallons (400 liters) could be extended up to 800 litres
Fuel prefilter with water seperator
seats with air suspension, heatable
Aircondition


The ACTION MOBIL-body:
Construction:
Self supporting sandwich plate panels of fibre glass composite.
Panel connections made by adhesive bond to custom extrusions eliminates metalic heat
conduction paths.
Wall thickness 2,40" (61 mm) with polyurethane foam insulation, reinforces polyester.
Dimension: 5.010 mm) x 2.300mm , inside height 1.950 mm


Entrance door and storage compartment doors:
entrance door and storage doors constructed of fibreglass composite plates and frames.
Thickness of doors 2,40" (61 mm) .
Double sealed doors with heavy duty locks
Stainless steel hinges throughout.
Additional retractable bolts at top and bottom of entrance door.
Safety cylinder locks all keyed alike
Windows:
Burglarproof, scratchproof top hinged ACTION MOBIL-windows.
Double insulated thermal window glass.
special, high quality Shutters and moskito nets.
Technical equipment
Electrical equipment:
Custom control panel to control powermanagement and liquide storages.
Battery main switch, savety cutout, fault current breaker.
DC power supply by Gel-battery bank, automatic I-U regulated alternator and AC
automatic I-U shore charger with cell temperature sensing.
Battery capacity: 24 V 250 Ah
Alternator charge rate: 28 V 100 A
Shore charge rate: 28V 25 A
Inverter 24 V/230 V, max output 1.500 W
Power plugs for 12 V DC, 24 V and 230 V AC.
on request: Solar system 6 x 55 Watt
Water supply:
72 U.S. gallons (260 l)
5 U.S. gallons (22 l) l hot water-heat exchanger.
waste water tank, 37 U.S. gallons (140 liters) .
Water faucets in bath and kitchen are built due to highest household quality standards.
All plumbing is insulated to prevent freezing.
exterior shower.
Water filtration system


LPG supply:
2 x 11kg gas bottles to be serviced from outside.
Toilet:
Porta Potti toilet with water flushing.
Heating system:
4 stage diesel powered warm water central heating (5 kW) High radiant heat share due
to radiators in living area and towel radiator in bath area.
Dimensions
GVWR:
22.200 lb. (10.000 kg).
Overall dimensions:
6.950 mm, width 2.300 mm, overall height 3550 mm
Have a master chef cook up some Wiener Schnitzel at the end your journey.
The boys from Britain's
Top Gear
--Jeremy, May and Hammond--are at it again. Season 15 of the show debuted on June 27th and it looks to be a real treat.
Top Gear
has often featured
motorhome stunts
and races in the past, but it seems like they're determined to top themselves this time. And from the photos and videos we've seen of what's coming up we'd say they succeeded.
The new season features the three hosts participating in their "Build a Motorhome Challenge." The result? Well, let's just say that while the "motorhomes" are imaginative they're not exactly pretty. Jeremy has placed a towering bachelor pad atop a Citroen CX, while May has propped a tent on a Lotus. As for Hamster, he's fashioned himself a country cottage complete with (faux?) brick on the back of a Range Rover.
So now we wait to see how this all pans out on screen and who will take home the best motorhome prize. In the meantime check out this viral video that swept the internet before being used in an actual commercial for
Top Gear
. It's video of two parents and their long suffering son spotting the
Top Gear
caravan on the road. We think they may be fans. Check out the
Guardian for more info
Perhaps you've seen our post about
post apocalyptic campers
, now heed the warning of the
Apocalyptic RV from New Jersey
:
Forget about the idea that motorhomes are just for blokes! Barbie has got her own set of wheels, and we ain't talking about no
Malibu Barbie Corvette
, we are talking a
GMC Style Battlestation
(ok, so its really more of a 'babestation'). Anyways, have a peak back in time at some good ol' fashioned Barbie nostaglia with the
Barbie Star Traveler Motorhome
:
Chances are you don't have enough legroom to fit into the Barbie Motorhome. Why not check out some
Luxury Motorhome Rental
at
Star Drive RV Rental
?
Modern motorhomes and caravans are cushy, convenient and offer all the comforts of home, so it's easy to forget that things weren't always this way. Not only were the shapes of early caravans different from their modern counterparts, but their interiors were nowhere near as luxurious. Still, to many there is something about a vintage model that appeals and with a little love and TLC these older versions of modern motorhomes--some so rare there are only three or four left in existence--can truly be transformed into something special. Read on to learn more about several different retro travel trailers and how they've been repurposed for modern use.
It's a proven fact that any campervan unfortunate enough to come across the path of a
Top Gear
host is unlikely to survive the week. This time the
Gear
guys seem to have outdone themselves. Digging deep into their childhood memories they have come up with the idea to play conkers with, well,
campervans.
Naturally.
For those who haven't had the pleasure, Conkers is really a simple game where two people choose one nut each and then place them on a string. The nuts then get swung at one another and the person whose conker breaks first loses.
Conkers - via Wikipedia
The first step to winning the Conkers with Campervans challenge is choosing the vehicle you are sending into battle very carefully. The clip above illustrates how it came to be that a 1983 camper complete with port-a-potty faced off against a 700 kilo behemoth. Sound fun? If you promise not to play Conkers with these caravans, you can get a sweet deal on
travel trailer rental
!
Search for motorhome rental
rv rental usa | rv rental canada | campervan hire australia | campervan hire new zealand | campervan hire south africa |